Cutting It Fine: The Benefits of Investing In Your Residues
By K-Line Ag
Invest in your stubble residue to increase the texture, organic matter and moisture retention of your soil. Progressive farmers are proving the benefits of proper stubble management rather than burning off.
The cutting edge Trashcutter® by K-Line Ag is proving a major advantage for farmers and has the answer for your stubble handling issues and ground preparation – without any matches!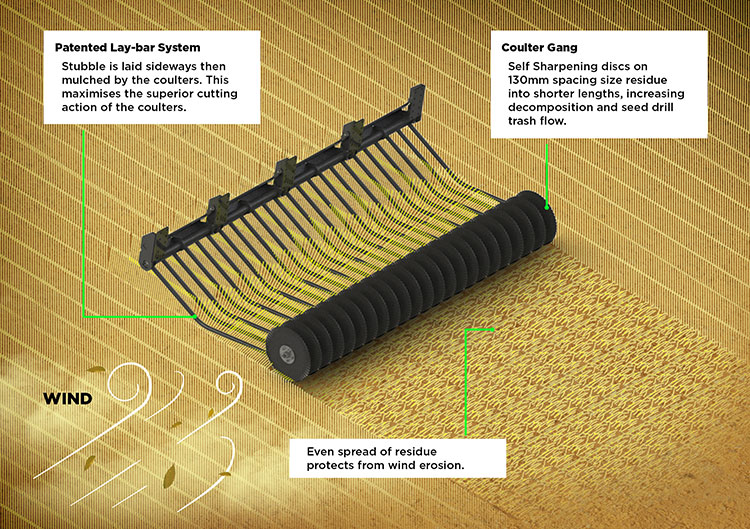 So What Does It Do?
The advanced design of the Trashcutter® (patented in Australia and Internationally) lays the stubble sideways with a lay-bar system, ahead of coulters spaced at 130mm apart, leaving an even layer of cut straw on the surface of your paddock. The cutting action of the coulters is controlled hydraulically with little disturbance to your root system. This is key to preventing stubble blowing away, which is important for ease of seeding. There is virtually no soil disturbance when set in the main operating position – a real advantage for soil erosion problems and for those of you who like to minimize tillage wherever possible!
How Can It Benefit Me?
Ideal for long straw, it allows you to lift your header front to take less straw and harvest your crop faster and more efficiently.
Lower operating costs and speed of operation are key advantages of this machine e.g. an 18m Trashcutter® can cover up to 27 ha/hr. Some operators may even choose to run the machine twice in a season to speed up the breakdown process, without incorporating straw into the soil profile.
Prior to sowing, the Trashcutter® can be used for melons, clovers, medics, and other viney weeds and is excellent in higher rainfall areas where snail control is an issue.
It can also be adjusted to give minimal soil disturbance. The coulter system can be angled up to 5 degrees, which can be a real advantage where shallow tillage is required for lime and chemical incorporation, as well as some weed control.
The Trashcutter® system has been extensively developed by K-Line Ag in conjunction with agronomists & farmers requiring a better system for stubble management and is a great tool for minimum to no-till farming situations.