Speedbuster ticks all the boxes in Cotton production system
By K-Line Ag
Rob Houghton runs a farm just outside Leeton in the Murrumbidgee Irrigation Area of NSW.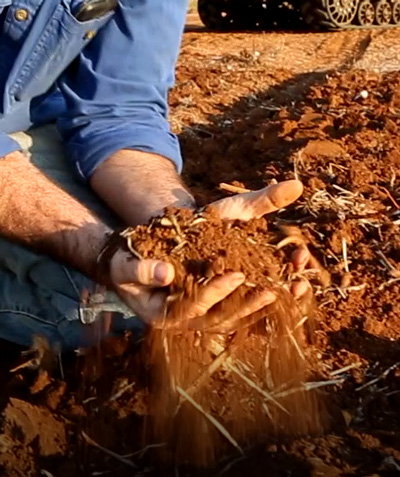 Traditionally Rob and his family were rice farmers but have adapted their farming operations quite quickly to ensure they are able to better withstand the challenges faced by farmers in the areas in recent years. These challenges have been predominantly higher water prices and lower rainfall. Rob has switched his farming mix to be more cotton cropping and less rice.
Our whole farming system is changing very rapidly, due mainly to the price of water. We've got to be very innovative in terms of how we store that water on farm now.
Rob is very community focused, he has a high interest in ensuring all Irrigators across the MIA are able to get the information they need to ensure that they can continue to improve their production system and to help with on farm decisions.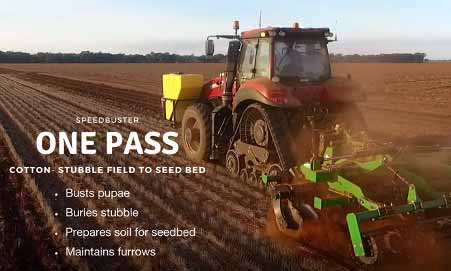 Rob is the chairman of the IREC (Irrigaton, Research and Extension Committee) which has a research facility near Whitton. The function of IREC is to create an information hub for Irrigators and somewhere to get together face to face. IREC runs annual field days around things like machinery and irrigation technology. They also run research projects that help determine suitable outcomes and decision models for irrigation farmers across the region.
It is important that Irrigators have the latest information about machinery and technology to optimise their system efficiencies.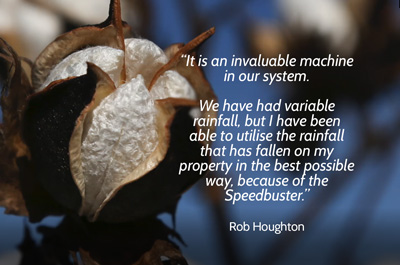 Two years ago Rob purchased a K-Line Ag 4.2m wide Speedbuster. The K-Line Speedbuster is a revolutionary breakthrough for cotton farming. The three point linkage machine is ideal for renovating beds and sizing and incorporating residue, providing a tillage solution to prepare beds from one crop to the next.
One pass with the K-Line Speedbuster will prepare a cotton stubble field. It will tick the box for pupae busting, bury the stubble, and prepare a seedbed in one pass. While also maintaining the furrows, which is very important if there is going to be some Spring irrigation on that subsequent crop.
---
View Rob Houghton's story….