The K-Line Ag MaxxRipper® is coming into its own, as customers are gathering indisputable evidence of the benefits of strategic deep ripping. Although a lot of areas haven't shown the results expected due to poor weather conditions, results like the MaxxRipper trials below can't be argued with!
MaxxRipper® Trials: Difference Between Deep Ripping & Not!
Pictured here are the results of farm contractor Tim Davies' canola crops in Temora NSW. Tim conducted a test on these two paddocks side by side, deep ripping one and leaving the other. The paddock in the foreground of this photo was ripped, and the other side of the fence (the side showing more flower) was left un-ripped.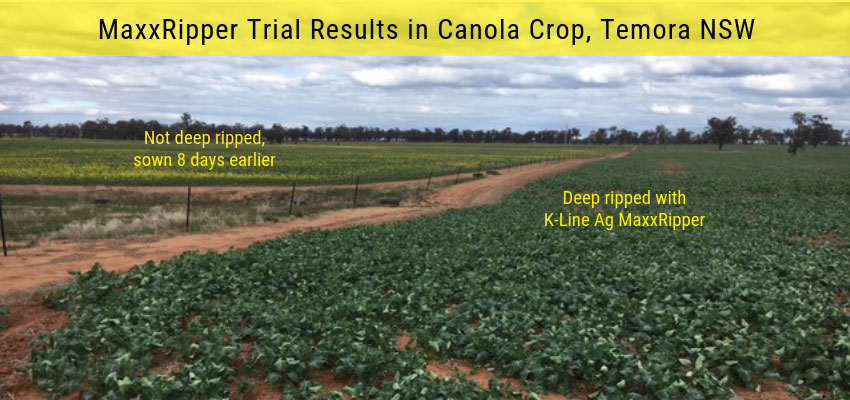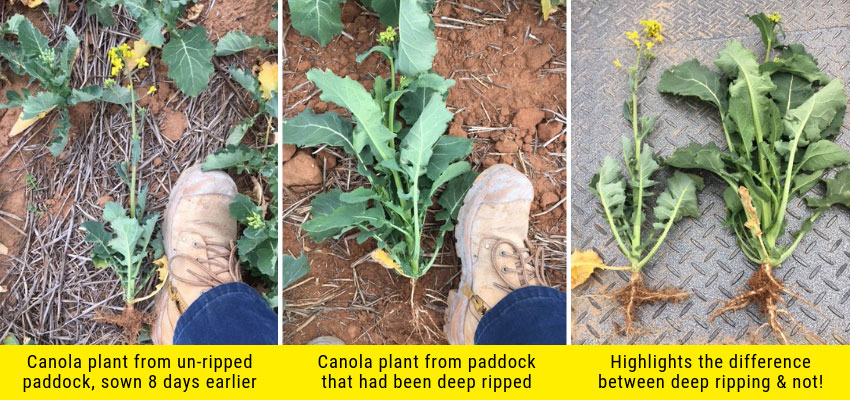 Ripped vs Un-Ripped
Notice the horizontal roots of the smaller plant on the left, which was taken from the un-ripped paddock. J-rooting is caused when plant roots come in contact with hard pans which they struggle to break through, which means they can't access the nutrients further down in the soil profile.
Find out more on the K-Line Ag MaxxRipper here, or Contact Us to find out how strategic deep ripping can benefit your farming operation!
More MaxxRipper Trials & Case Studies
Recent Farms and Farm Machinery case study on David McMillan's application of K-Line Ag products to address dry, compacted soil on his property at Young, NSW… click HERE for full story!
Results of deep ripping in Sunflower Cropping in Parkes NSW: 'Flower Power – MaxxRipper Breaks New Ground in Sunflower Crop!'

There is currently a 9-Tine K-LINE AG MAXXRIPPER® available in the Riverina district. Contact Tim Davies on 0409 775 351 for hire information and contact details.